Alisa loves being in the rehearsal room when she can chisel out the time. Over the years, she has served as dramaturg at the Institute on the Arts and Civic Dialogue, Harvard University; on the gender-reversed Lear produced by Mabou Mines; at Theater for a New Audience (where she is currently a member of the Council of Scholars); Creation Production Company; BACA Downtown; WOW Theater; Ark Theater; La Mama; and the Yale Repertory Theater.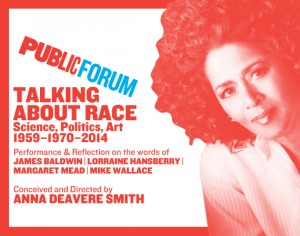 Most recently, she served as dramaturg for Notes from the Field, Anna Deavere Smith's work on the pipeline to prison, working on the early stages at the Berkeley Repertory Theater in July 2015 and as part of town hall discussions at the Berkeley Repertory Theater and the Yerba Buena Arts Center in July 2014, and then on the full production at the American Repertory Theater in August 2016 and at Second Stage, in New York, in the fall of 2016. She also served as dramaturg on Ms. Smith's Talking About Race: Science, Politics,  Art 1959/1970/2014 presented at the Public Theater in New York on May 30  and 31, 2014, before heading to the Aspen Festival in Colorado. The evening of performance and reflection on two actual dialogues — one between Lorraine Hansberry and Mike Wallace, the other between James Baldwin and Margaret Mead — was conceived and directed by Anna Deavere Smith.

Alisa also worked on  Anna Deavere Smith's  acclaimed solo show, Let Me Down Easy, beginning with a workshop at the Long Wharf Theater in New Haven, CT, in the summer of 2006, followed by a full rehearsal process and mainstage production there in December 2007/January 2008. Development continued at the  American Repertory Theater in Cambridge, MA, in the summer of 2008, and the play opened the season there for a month-long run that September. The following summer saw the crafting of the final version for the New York premiere at Second Stage, where the play opened in October 2009, and was extended twice. It went to the Arena Stage in Washington, DC, in December 2010, and after several months there, embarked on a national tour, which included runs at Berkeley Repertory Theater, La Jolla Playhouse, Philadelphia Theater Company, San Diego Repertory Theatre, The Wexner Center for the Arts, Columbus OH. A version made for PBS Great Performances first aired on January 13, 2012.