AUTHOR
Wonder of Wonders: A Cultural History of Fiddler on the Roof (Metropolitan Books, 2013)

In the half-century since its premiere,

Fiddler on the Roof

has had an astonishing global impact. Beloved by audiences the world over, performed from rural high schools to grand state theaters,

Fiddler

is a supremely potent cultural landmark.

Wonder of Wonders traces how and why the story of Tevye the milkman, the creation of the great Yiddish writer Sholem-Aleichem, was reborn as blockbuster entertainment and a cultural touchstone, not only for Jews and not only in America. It is first a story of the theater, following Tevye from his humble appearance on the New York Yiddish stage, through his adoption by leftist dramatists as a symbol of oppression, to his Broadway debut in one of the last Golden Age musicals (with the legendary Jerome Robbins directing the ungovernable genius, Zero Mostel) and then Tevye's starring role in a major Hollywood picture, and far beyond. It is also a cultural story, about a show that spoke to deepest conflicts and desires all over the world. The book takes readers into the rehearsal room where Fiddler was hammered into shape, onto the stage where it was rapturously received, and out into the world where its powerful legacy continues.
Click here for advanced praise & reviews »
Re-Dressing the Canon: Essays on Theater and Gender (Routledge, 1997)

A series of linked, lengthy essays that show how the theatrical self-consciousness embedded in the Western tradition reveals the artificiality of gender; individual chapters focus on Aristophanes, Shakespeare, Ibsen, Brecht, the Yiddish theater, and the queer theater of  Charles Ludlam and Split Britches. Winner of the George Jean Nathan Award for Dramatic Criticism; the award citation hailed the book as "a bold and lucid study." In announcing the award, Cornell Professor Jonathan Culler said, "Alisa Solomon's splendid book resolves the dilemma frequently encountered by the Nathan Prize Committee. There is no need to choose between the brilliant reviewer and the brilliant scholar when they are the same person.

"Re-dressing the Canon confirms what I have long suspected: Alisa Solomon is one of our most important cultural critics, whose writings on the theatre consistently display an ever-expanding base of knowledge. Who else can write so extensively and with such pleasure on such a wide range of topics including Aristophanes' Thesmophoriazusae, England's James I, Ibsen's female actor-managers and his male to female cross-dressed interpreters, Zelig Mogulesko, Brecht's Lehrstucke, the Mabou Mines (and if that wasn't enough, George Bernard Shaw, Fiona Shaw, and Peggy Shaw)? All of these appear in this remarkable book. Re-Dressing the Canon will make our teaching and scholarship a little easier and a lot more enjoyable." – David Román, Theatre Journal
EDITOR
The Reverend Billy Project: From Rehearsal Hall to Super-Mall with the Church of Life After Shopping, by Savitri D and Bill Talen, Edited and with an introduction by Alisa Solomon (University of Michigan Press, 2011.)

A volume of analytical narratives recounting the activist histrionics of the performance-art preacher.

"In The Reverend Billy Project, editor Alisa Solomon has combined a number of writings by Talen and Savitri D that explore, report, and comment on some of the actions they have conducted in places as varied as Los Angeles, Barcelona, and Berlin. These, together with a penetrating interview and introduction, all combine to give a reader a deep look into the motives and methods of what have become known as culture jammers. Given the lamentable state – in the present writer's opinion – of the current culture, the Reverend Billy troupe's upbeat, enjoyable, critical commentary on it, suggesting action and participation, is a laudable contribution, to be sure. The Reverend Billy Project provides a good tool for understanding a contemporary movement that continues to enact Sixties' values. Well before Wall Street was occupied, Reverend Billy was there." Tom Fels, The Sixties: A Journal of History, Politics and Culture

a "marvelous and important book"
—Claudia Orenstein, Hunter On-Line Theater Review

Wrestling with Zion: Progressive Jewish-American Responses to the Israeli-Palestinian Conflict edited by Tony Kushner and Alisa Solomon (Grove Press, 2003)

An anthology produced at the height of the second intifada, features pieces by historians, political pundits, journalists, scholars, poets, and activists from a range of identifications (Zionist, non-Zionist, post-Zionist, anti-Zionist …). Among the more than fifty contributors:  Ammiel Alcalay, Daniel Boyarin, Judith Butler, Jonathan Safran Foer, Susannah Heschel, Rabbi Michael Lerner, Robert Jay Lifton, Grace Paley, Marge Piercy, Robert Pinsky, Letty Cottin Pogrebin, Adrienne Rich, Ella Shohat, Henry Siegman, Susan Sontag, Ellen Willis.

The Queerest Art: Essays on Lesbian and Gay Theater, edited by Alisa Solomon and Framji Minwalla  (New York University Press, 2002)

The first anthology to bring scholars and makers of queer theater into direct dialogue, the volume explores such subjects as same-sex desire in Restoration comedy, the racialized impact of colonial Shakespeare, the cuerpo politizado of a performance artist in contemporary Los Angeles, and the nitty-gritty of getting a queer show to play in Peoria.

"The special ephemerality and perilousness of queer existence on- and offstage make this volume's excellently rendered project of documentation through performance,writing, and publication not only admirable and necessary but urgent."
—Kim Marra, TDR

Theater and Social Change, special issue of Theater: 31:3. Guest editor (Duke University Press, 2001)

Contributions from scholars and artists, including: Buzz Alexander, Caron Atlas, Peter Brosius, Linda Frye Burnham, Jan Cohen-Cruz, Lani Guinier, Holly Hughes, Jonathan Kalb, Dorinne Kondo, Tony Kushner, Robbie McCauley, Judith Malina, Ruben Martinez, Tim Miller, John O'Neal, Claudia Orenstein, William Pope.L, Bill Rauch, Julie Salverson, Graciela Sanchez, Anna Deavere Smith, Roberta Uno, and others.
CONTRIBUTOR
"Introduction" to Ping Chong's Undesirable Elements, (TCG,  2012).
"Blasted," essay on the play by Sarah Kane in Best Plays Theater Yearbook 2008-2009, ed. Jeffrey Eric Jenkins (Limelight Editions, 2013).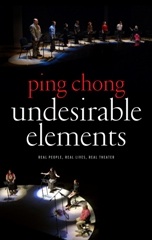 "Passing Strange," essay on the new musical by Stew, in Best Plays Theater Yearbook 2006-2007, ed. Jeffrey Eric Jenkins (Limelight Editions, 2008).
"Four Scenes of Theatrical Anarcho-Pacifism: A Living Legacy," essay on the Living Theater in Restaging the Sixties: Radical Theaters and their Legacies, ed. James Harding and Cynthia Rosenthal (University of Michigan Press, 2006): 56-74.
"Trans/Migrant: Christina Madrazo's All-American Story," in Queer Migrations: Sexuality, U.S. Citizenship, and Border Crossings, ed. Eithne Luibheid and Lionel Cantu (University of Minnesota Press, 2005): 3-29.
"Introduction," God of Vengeance: A Play by Donald Margulies, adapted from Sholom Asch, (TCG, 2004): v-xv.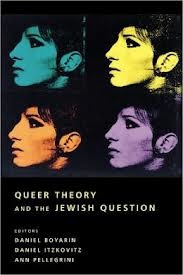 "Viva La Diva Citizen: Post-Zionism and Gay Rights," in Queer Theory and the Jewish Question, ed. D. Boyarin, D. Itzkovitz, and A. Pellegrini, (Columbia University Press, 2003): 149-165.
"Introduction," Queer Ideas: The David R. Kessler Lectures in Lesbian and Gay Studies, co-authored with Paisley Currah, Center for Lesbian and Gay Studies (Feminist Press, 2003): 5-18.