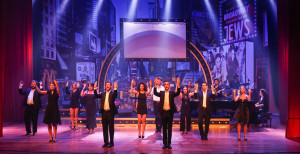 Act British, think Yiddish, the old adage goes. Not any more. A new show in London's West End — You Won't Succeed on Broadway if You Don't Have Any Jews — is celebrating the Jewish contribution to the Great White Way, revealing a heartening reversal in England's anxiety about Jewish performance. The revue features numbers from the 1930s to the present, highlighting Fiddler, of course — the first show to show how thoroughly all audiences would embrace a Jewish show — with a rousing performance of "Tradition." But there's an overturning of a tradition in the revue's very title — one that Tevye would certainly approve. The title comes from  a hilarious song from Spamalot, the 2005 Monty Python musical (which was accompanied by a side-splitting spoof of Fiddler choreography) whose lyrics were actually changed when the musical moved from Broadway to London, where, it was supposed, audiences wouldn't get the joke. In London — and international productions ever after — Sir Robin instead explains to King Arthur, "You won't succeed on Broadway if you don't have any stars." In this case, there's no joke to get! With the revue that The Guardian calls a "deft anthology," London is making up for the revision, and lustily heeding Robin's advice:
They won't care if it's witty,
or everything looks pretty,
They'll simply say it's shitty and profuse.
Nobody will go, sir,
If it's not kosher then no show, sir,
Even Goyim won't be dim enough to choose!
Put on shows that make men stare,
With lots of girls in underwear,
You may even have the finest of reviews.
…
The audience won't care, sir,
As long as you don't dare, sir,
To open up on Broadway
If you don't have any Jews.